The Hobart Portable MIG Welder model number 500559 is capable of welding sheet metal as thin as 24 gauge and steel plate up to ¼" thick. The machine also has the versatility to weld a variety of metals including mild steel, aluminum, and stainless steel. The 5 position voltage control selector provides an ultra-smooth and stable arc over a wide range of welding thicknesses.
The package includes a built in MIG Gas Solenoid, gas hose, dual gauge regulator, an extra-long 10 FT work lead, and an 8-inch diameter wire spool adapter. Also included in the kit is a starter spool of 0.030 flux-cored wire and spare 0.030 contact tips. The detailed owner's manual and set-up guide will have you up and running in no time. Lift the door and you will find a handy chart that will provide you with a starting point. Simply match the settings to the thickness and type of material you are welding and you should be in the hunt.
Hobart has redesigned the ground clamp making it more durable. The new version is manufactured with thicker material. The clamp has a wider opening so you can attach it to larger items. They also made improvements to the contact points on the clamp. Another benefit of the Hobart name, is that you can easily find consumable parts at your local welding supply house.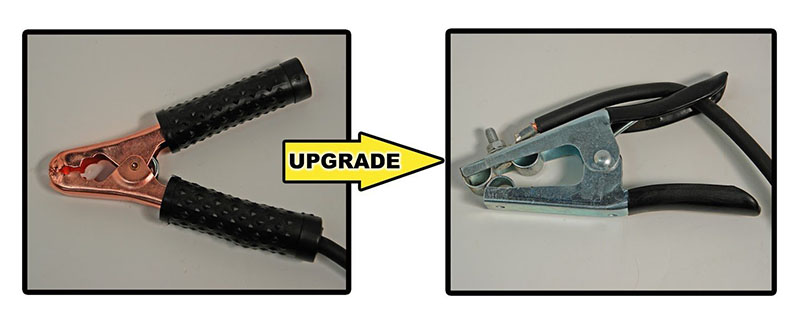 Features and Benefits of the Hobart Portable MIG Welder 500559
Input Power: 115 Volt
Output Power: 25 amps to 140 amps
Dimensions: 19" x 11" x 13"
Weight: 57 LBs
Wire Size: 0.023' to 0.035" diameter
Spool Diameter 8" diameter
The Downside of the Hobart Handler Model 500559
If I had to say anything bad about the machine it would be its relatively low duty cycle rating. With a duty cycle of 20% at 90 Amps, the machine isn't ready for fulltime industrial use, but could be the perfect fit for a hobby welder. If you plan to do some serious welding, you may want to upgrade to a 220 Volt Machine.
The Verdict
With an industrial grade cast aluminum drive system the Hobart Portable MIG Welder model number 500559 is a pretty durable machine for home use. So as long as you are just a hobby welder doing small projects around the house or farm, the Hobart Handler 500559 is a good choice. You will have peace of mind knowing that your machine is backed by Hobart's 5/3/1 warranty. Hobart is a well-recognized brand name so you can count on their support if you have any issues. The same can't be said for some of the no-name imports.
https://portablemigwelders.com/wp-content/uploads/2016/07/Hobart-500559-Handler-1F.jpg
600
1500
Wizard
https://portablemigwelders.com/wp-content/uploads/2016/04/MIG-Logo-125x600.png
Wizard
2016-07-04 20:58:24
2018-07-07 11:01:54
Hobart Portable MIG Welder